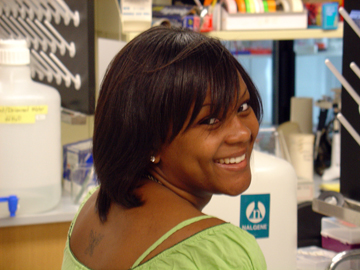 2006 MGEL Summer Intern Erin Reynolds
Mississippi has the highest proportion of black Americans of any state, and is #3 overall with regard to total proportion of inhabitants in minority populations (www.census.gov). Consequently, academic researchers in Mississippi have the opportunity, privilege, and responsibility to create educational/career opportunities that engage and empower individuals from the States (and region's) minority populations.
Daniel Peterson (MGEL Director) has worked hard to develop and implement a summer internship program aimed at promoting diversity in science and academia. This program, which originally involved training talented students from "historically black colleges and universities" (HBCUs), has been expanded to broaden the research backgrounds of HBCU faculty and foster long-term collaborative research. The intern program currently involves partnerships with the HBCUs Tougaloo College and Elizabeth City State University. Click on the links below for details about these programs and their origins. Click on the Summer Interns and Visiting Scholars links to learn more about the wonderful students and HBCU faculty with whom we have had the pleasure to collaborate.
Education | Workshops | Project Goals | About Loblolly Pine | Personnel | BAC Library | DNA Sequences | Publications | Bioinformatics Tools | Contact | Home